Regular price
$37.00 USD
Sale price
$27.00 USD
Unit price
per
Sale
Sold out
In order to monetize and earn revenue from your videos on Youtube, you have to join their "Partner Program". The Partner Program pays you a percentage of revenue earned by ads that run on your videos. To be eligible to join the Partner Program, you must have more than 1,000 Subscribers and 4,000 Hours watched within the past 12 months. That's about 48,000 full-length views of a 5-minute video in the past 12 months. The shorter the video, the more views you need, so if it were a 2-minute video, it would take 120,000 full-length views. Unfortunately, views from Youtube ads don't count - for those that were thinking of it as a work-a-around.

What Youtube wants is for you to be a Youtuber. They want you to focus on getting Subscribers and creating consistent content to feed their platform by giving your fans a reason to return. What do you want? I don't know you, so I can only assume, but I'd say what you want is to be compensated for the use of your work.
I highly doubt if the ideal situation for you is to effectively work as an unpaid intern in the hopes of having your hard work result in a paying position at the company. Youtube monetization for artists that don't want to be Youtubers is about getting what you deserve! No spending, what could be, years paying for your work clothes, transportation, and lunch in the hopes of it possibly paying off down the road. Learn how to profit from your music on Youtube RIGHT NOW!
We'll go through all the different ways your music can find its way on Youtube. The different payment structures of the platform that determine how much you're paid for different types of views and placements and how to squeeze the most revenue from your videos on Youtube.
Some of what you'll find inside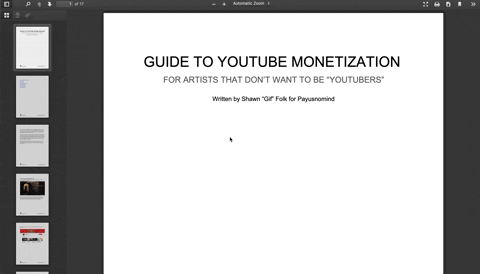 The different types of Youtube Channels 
Your options for Monetization 
Why not being a Youtuber makes sense 
Youtube Music's Role 
How you make more money from views without a channel 
Share
View full details